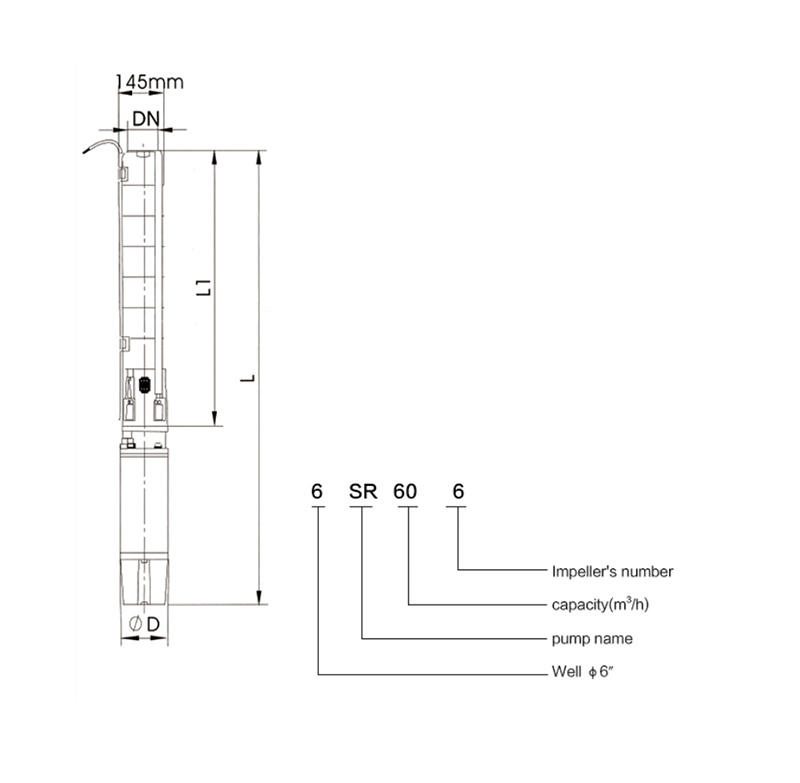 | | |
| --- | --- |
| Components | Material |
| Delivery casing | ①AISI304ss ②AISI316 ss |
| Check valve | ①AISI304ss ②AISI316 ss |
| Suction lantern | ①AISI304ss ②AISI316 ss |
| Stage casing | ①AISI304ss ②AISI316 ss |
| Impeller | ①AISI304ss ②AISI316 ss |
| Shaft | ①AISI316ss ②AISI304 ss |
| Shaft coupling | ①AISI316ss ②AISI304 ss |
| Wear ring | Rubber |
| Motor external casing | AISI304ss |
| Top cover | ①Cast iron G20 UNI5007 ②AISI304ss |
| Bottom support | ①Cast iron G20 UNI5007 ②AISI304ss |
| Seat | ①NBR Carbon-SIC/TC |
| Shaft | AISE 316 ss-C1045 |
| Thrust bearing | ①Ceramin/Carbon ②NSK |
| Radial bearing | ①Ceramin/TC ②NSK |
MODEL

DN

DIMENSIONS(mm)

L1

L(s)

ΦD

6SP17-9

3"/4"


675


1292


138

6SP17-12

3"/4"

810

1477

138

6SP17-15

3"/4"

945

1662

138

6SP17-18

3"/4"

1080

1867

138

6SP17-21

3/4"

871

1708

138

6SP17-24

3"/4"

1350

2237

138

6SP17-30

3"/4"

1620

2532

144

6SP17-36

3"/4"

1890

2887

144

6SP17-43

3"/4"

2205

3267

144
Performance chart n≈2850rpm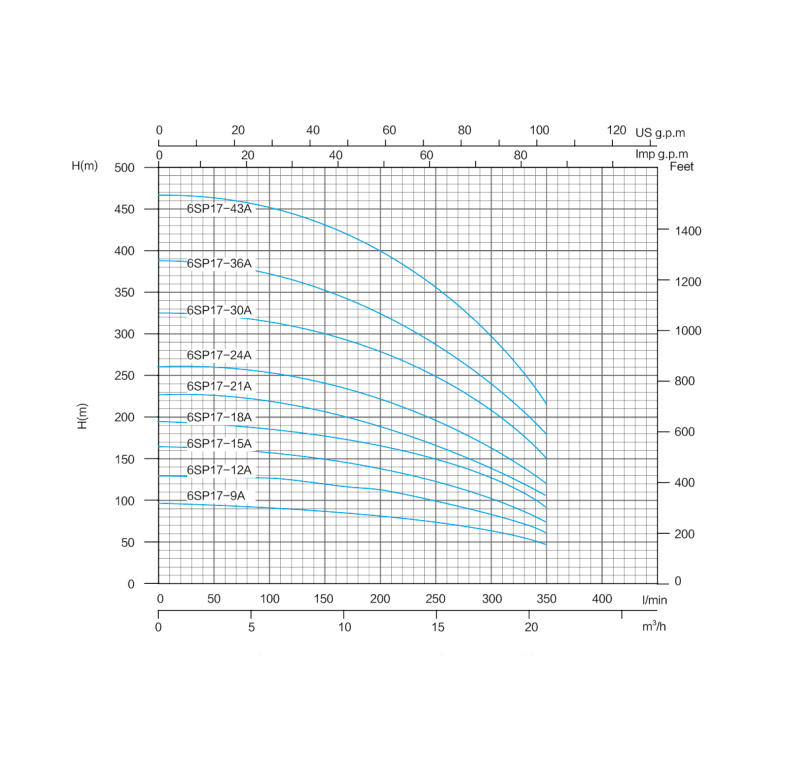 Performance chart n≈2850rpm
Model

Power      

 DELIVERY         n≈2850 I/min


3~ 380V415V

kW

HP

m3/h

0

3

6

9

12

15

18

21

l/min

0

50

100

150

200

250

300

350

6SP17-9A

5.5

7.5

Head
(m)

97

96

94

90

85

76

63

45

6SP17-12A

7.5

10

130

128

126

120

113

102

84

60

6SP17-15A

9.2

12.5

162

160

157

150

141

127

105

75

6SP17-18A

11

15

195

190

188

180

170

152

126

90

6SP17-21A

12

17.5

227

224

220

210

198

178

147

105

6SP17-24A

15

20

260

256

251

241

226

203

168

120

6SP17-30A

18.5

25

324

320

314

301

283

254

210

150

6SP17-36A

22

30

389

384

377

361

339

305

252

180

6SP17-43A

26

35

465

459

450

431

405

364

301

215
A stainless steel 6" submersible pump is a type of submersible pump that is designed for use in environments where corrosion resistance is important. The pump is made of stainless steel, which is a type of corrosion-resistant alloy that contains at least 10% chromium. These pumps are typically used in a variety of applications, including irrigation, water supply, and dewatering. They can be used in both fresh and saltwater environments, and are generally more durable and longer-lasting than pumps made from other materials.
A stainless steel 6" submersible pump is a type of water pump that is designed to be installed underwater, typically in a well or borehole. These pumps are typically used to pump water from a well or other underground water source to the surface, where it can be used for irrigation, drinking, or other purposes.
Stainless steel is a popular material for submersible pumps because it is resistant to corrosion and can withstand the harsh conditions found in underground environments. These pumps are often used in residential, agricultural, and industrial settings, and they can be used to pump water from depths of up to several hundred feet.
Submersible pumps are powered by an electric motor, which drives a impeller, or rotor, that moves the water through the pump and up to the surface. These pumps are designed to be efficient and reliable, and they are typically able to operate for long periods of time without requiring maintenance.