Performance chart n≈2850rpm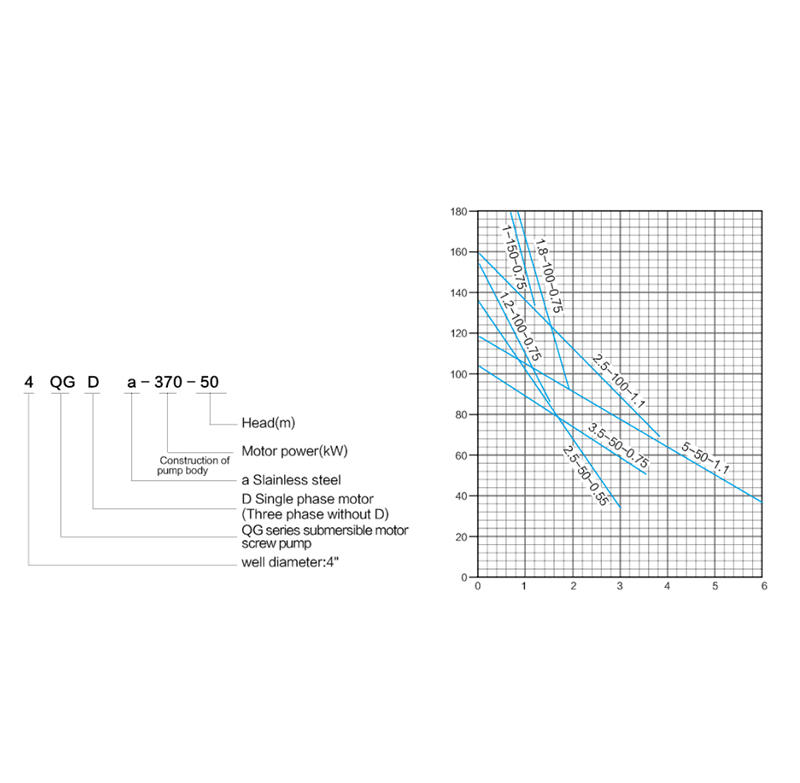 SINGLE PHASE DIMENSIONS OF MOTOR UNIT
Type

Size
Q_H_kW

 

Motor
power

Capacity

Voltage

Max.Dia

Pipe.dia

Dimension

QGDa

kW

Hp

m3/h

m

V

mm

Inch

mm

1-50-0.25

0.25

0.33

1

50

220/380

102

1

510x140x165

1.2-50-0.37

0.37

0.5

1.2

50

220/380

102

1

510x140x165

1.8-50-0.50

0.5

0.7

1.8

50

220/380

102

1

510x140x165

2.5-50-0.55

0.55

0.75

2.5

50

220/380

102

1

565x150x190

1.2-100-0.55

0.55

0.75

1.2

100

220/380

102

1

565x150x190
4 inch Cast Iron Screw Pump CAPACITY :0.37-11 kW (Single phase) Total head:50-160m Insulation class:B Protection grade:lP 68 Maximum diameter:Φ 94.5 mm Maximum temperature of liquid:35℃
This screw pump is designed for high capacity and high pressure application. Adopt the newa standard,the cast iron machinery parts ensure long time using life .Use the imported steel sheets as the body of machine to guarantee the strong structure and strong durability.
This small screw pump is a new generation of high efficiency low consumption, no maintenance required, not aging. Using imported high quality steel, processed by CNC machining center and imported precision casting equipment to ensure the accuracy of the installation.
Our screw pump is used for transferring of substances, such as water and oil. It uses a rotating mechanism to transport the material. The pump consists of an outer casing and motor, inner barrel and rotor. The barrel contains a hard shaft that drives through the center hole by diaphragm plate to make the whole barrel rotate.
4 inch Screw Pump is a self-priming pump with cylindrical pump body, double helical screw and high speed of rotation. It can be used for pumping liquid with viscosity from 1 to 30 (API 40 volume at 100℃), not corrosive, no suspended solids or emulsions. Such as water, oil and other products.
This 4 inch Cast Iron Screw Pump is ideal for transferring liquids in your garden or around the home. It features a cast iron body, pump head and screw which ensures efficient water transfer. The pump can transfer water at a rate of 1-2 m3/h with a total head between 50-160 meters (164'-520'). This pump is suitable for liquors for sterilizing equipment, bathing facilities and swimming pools.
This Screw pump is best for medium-low pressure and high-speed transfer of liquids. It is used for small domestic water systems, water purification, chemical industries, paper making and pharmaceuticals industries. The material body is made of high quality cast iron (GJS), which can be used for heavy duty application.It is a Cast Iron Screw Pump that can be used in many situations and has a strong power.