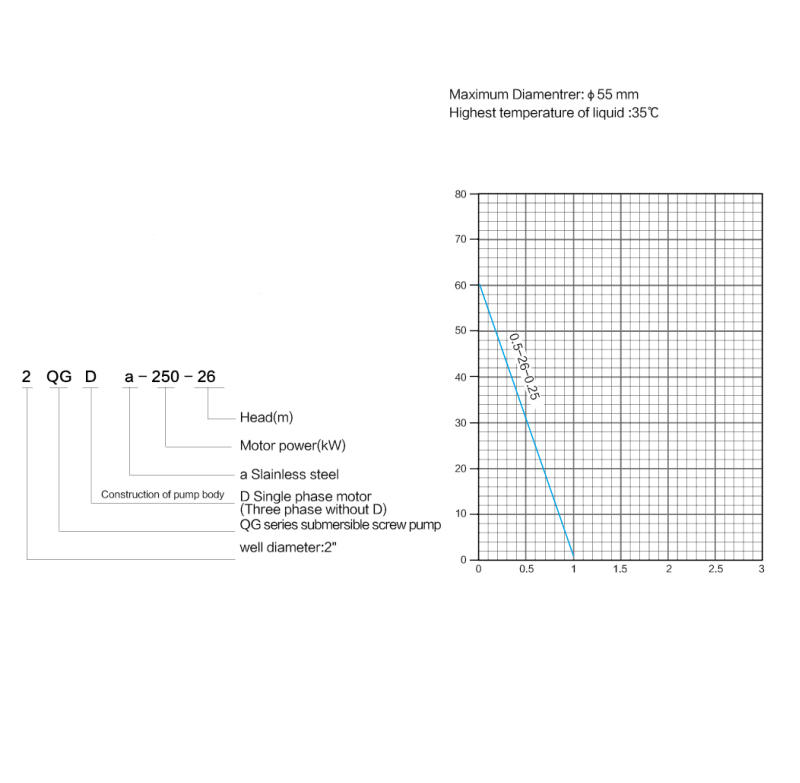 SINGLE PHASE DIMENSIONS OF MOTOR UNIT

Type

Size
QHKW

Motor
power

Capacity

Voltage

Max.Dia

Pipe.dia

kW

Hp

Qmax
m3/h

Hmax
m

V

mm

Inch

2QGDa

0.5-26-0.25

0.25

0.33

1

60

220

55

1/2
The 2 inch stainless steel submersible screw pump is designed with a motor of high quality and stable structure. This pump is suitable for liquid conveying, irrigation, fire fighting and other industries.
2" Stainless Steel Submersible Screw Water Pump (Single Phase, Single Speed) 10A Open Phase. Max Head 60m. Max output of 1m3/h with a flow rate of 160 L/min and pressure range 0 - 0.25 MPa (0 - 20 Bar). Max Pressure suitable for transferring boiling liquids from vessels to discharge location or underground piping systems/tanks
Our 2 inch Stainless Steel Submersible Screw Pump is an ideal choice for many applications such as: Drainage, irrigation and many other industrial applications.
This 2 inch stainless steel submersible screw pump is a powerful and durable pump for various applications, including swimming pools and other water features. The 2 inch stainless steel screw pump is built with a heavy duty 1/2HP motor to meet your needs, even in high temperature environments.
The Stainless Steel Submersible Screw Pump is a polymer composite screw pump with webbing, which has been made by means of injection moulding. It is a perfect solution for pumping water from wells, rivers, lakes and ponds. It has passed IP68 test and meets the latest EU standards in terms of hardness, corrosion resistance and abrasion resistance etc.
This is a 2 inch Stainless Steel Submersible Screw Pump, which has been designed to function in the most extreme environmental conditions. The development of high-quality pump units is one of our top priorities. We use only materials of the highest quality and guarantee that our products are built up to last for years. Among other things, these pumps were tested at temperatures as low as -40°C and as high as +120°C to ensure that they can survive even in difficult weather conditions.
The submersible pump has been widely used in the construction of high quality industrial water supply, fire fighting and civil water supply, irrigation and drainage, and so on. It can also be used to transfer oil and non-corrosive liquid.
The 2-inch pump is a popular choice for many applications that require powerful, efficient and durable water transfer. The pump features completely enclosed, permanent magnet, cast iron construction. It's ruggedness makes it ideal for use in virtually any industry. They are compact, self-priming and ultra quiet models with no exposed rotating parts to cause leaks or clogging.