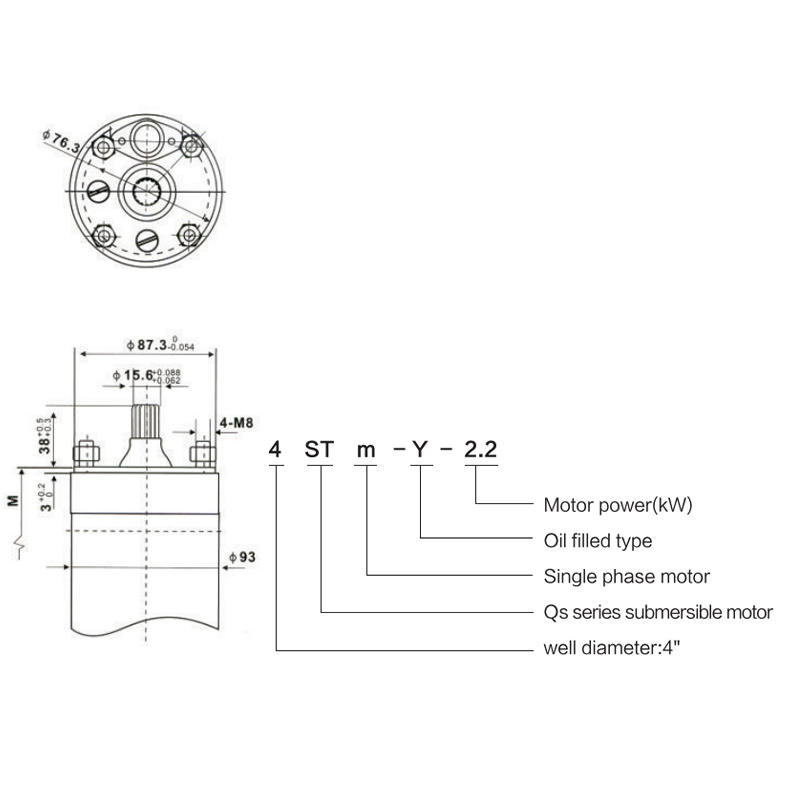 SINGLE PHASE DIMENSIONS OF MOTOR UNIT
Model
Motor Power
Capacitor
current
Efficiency
Dimension
uF
A
n
(mm)
kg
4STmY-0.37
0.37
0.5
18
2.9
55
331
8
4STmY-0.55
0.55
0.75
25
4.2
58
346
8.5
4STmY-0.75
9.8
1
30
5.4
61
371
9.5
4STmY-1.1
10.6
1.5
35
7.7
64
391
10.6
4STmY-1.5
11
2
45
9.7
67
416
11.6
4STmY-2.2
2.2
3
70
15.6
68
441
12.6

Performance chart n≈2850rpm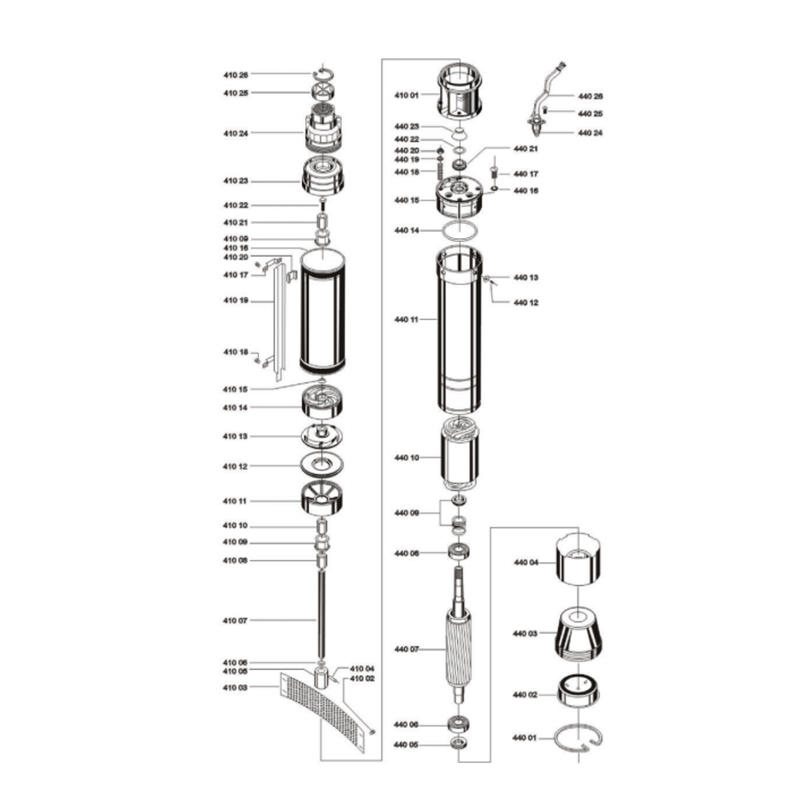 | | |
| --- | --- |
| 430 01 | Suciton support |
| 430 02 | Screw |
| 430 03 | Strainer |
| 430 04 | Shaft pin |
| 430 05 | Coupling |
| 430 06 | Shim |
| 430 07 | Shaft |
| 430 08 | Bush |
| 430 09 | Guide bush |
| 430 10 | Bearing bush |
| 430 11 | lntermediate support |
| 430 12 | Diffuser Cover |
| 430 13 | lmpeller |
| 430 14 | Diffuser |
| 430 15  | Sealing gasket |
| 430 16 | Pump pipe |
| 430 17 | Holder pipe |
| 430 18 | Screw |
| 430 19 | Cable cover |
| 430 20 | Cable shield |
| 430 21 | Bearing bush |
| 430 22 | Screw |
| 430 23 | Valve seat |
| 430 24 | Outlet |
| 430 25 | Valve |
| 430 26 | clamping spring |
| 4401 | Clamping spring |
| 4402 | End cover |
| 4403 | Rubber cup |
| 4404 | Bearing seat |
| 4405 | Thrust bearing |
| 4406 | Deep groove ball bearing |
| 4407 | Motor rotor |
| 4408 | Deep groove ball bearing |
| 4409 | Mechnical seal |
| 440 10 | Motor stator |
| 440 11 | Motor pipe |
| 440 12 | Screw |
| 440 13 | Locking ring |
| 440 14 | "O"ring |
| 440 15 | Oil chamber |
| 440 16 | "O"ring |
| 440 17 | Screw |
| 440 18 | Stud |
| 440 19 | Washer |
| 440 20 | Nut |
| 44021 | Static ring |
| 440 22 | Gasket |
| 440 23 | Sand proof cap |
| 440 24 | cable sheld sleeve |
| 440 25 | Screw |
| 440 26 | Cable |
This single phase motor, deep well submersible pump is designed for pumping water and other liquids from wells and cisterns, as well as for drip irrigation systems. It is made with the latest technology and materials to ensure optimal performance in any conditions. The anti-abrasion grill offers maximum protection against rust and corrosion, while its mechanical seal minimizes leakage and extends service life.
Single phase motor: 0.37 to 2.2kW Speed:2850rpm Voltage:220V-240V~/50Hz Insulation class: B Protection grade: IP 58 Highest temperature of liquid: 40°C Maximum content of solid substance: 40gr/m
Impeller single phase motor 2kw, 2850rpm and IP58. The motor casing is made of stainless steel AISI 304. The speed or rpm is 2850rpm and voltage is 220V-240V~/50Hz.
Single phase motor pump, the model with high performance and low speed makes the liquid to be more turbid and with no noise. The maximum load and pressure of the pump is 2KW and 2Mpa, which means that it can transfer water easily without getting stuck in any way.
This is a Single phase motor with deep well submersible pump. 0.37 to 2.2kW heavy duty, totally enclosed construction and high pressure balanced auto-ventilated casted bronze body/base ensures smooth running, trouble free operation and longer working life.
The Single phase motor Deep Well Submersible Pump is designed for water supply in remote areas. The pump works both with a single-phase three-wire. It has a high operating pressure and temperature range, which makes it suitable for installations in a wide variety of climates, even those in desert areas. This product is equipped with pressure balance device to prevent water damage due to overpressure or stroke.
It is a kind of deep well pump, used for industrial liquid moving. The single-phase motor has the advantages of low consumption and high efficiency.
Well Submersible Pump is widely used in the mining and metallurgical industry in takings out the water from the mine or from the underground mines, as well as drainage, irrigation and drainage work.The most important feature of this pressure pump is its light weight, small volume and high discharge. Its characteristic is its multi-purpose use for water transport and handling.