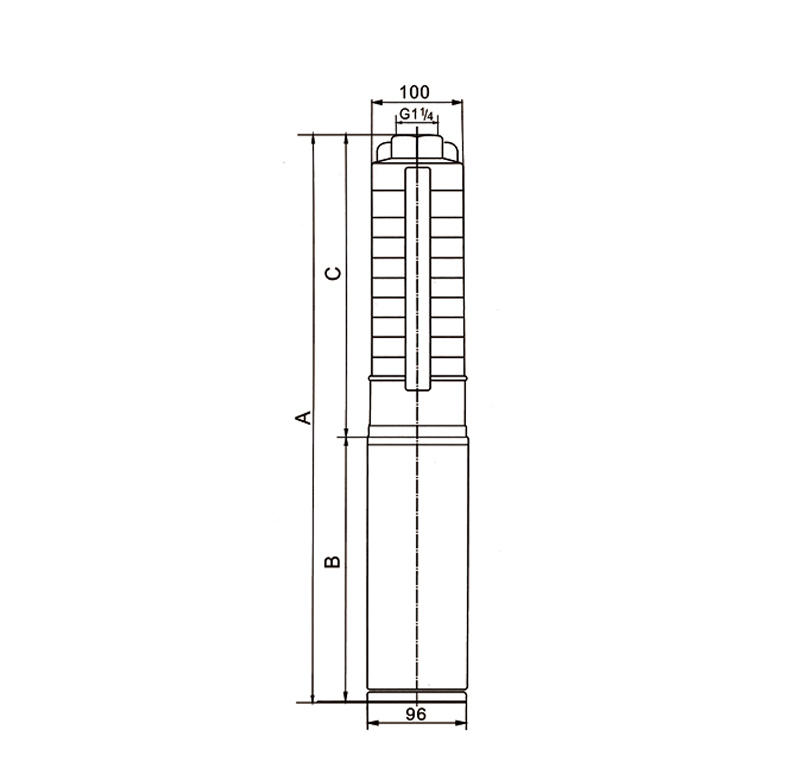 Model

Dimensions(mm)

G.W (kg)

A

B

C

4SM2-8F

657

360

297

13

4SM2-10F

720

360

360

14

4SM2-13F

824

380

444

16

4SM2-17F

938

410

528

18

4SM2-21F

1062

450

612

20

4SM2-25F

1146

450

696

21

4SM2-28F

1259

500

759

23

4SM2-32F

1343

500

843

24

4SM2-36F

1427

500

827

25

4SM2-39F

1560

570

990

30

4SM2-42F

1623

570

1053

31

4SM2-46F

1707

570

1137

32

4SM2-50F

1791

570

1221

33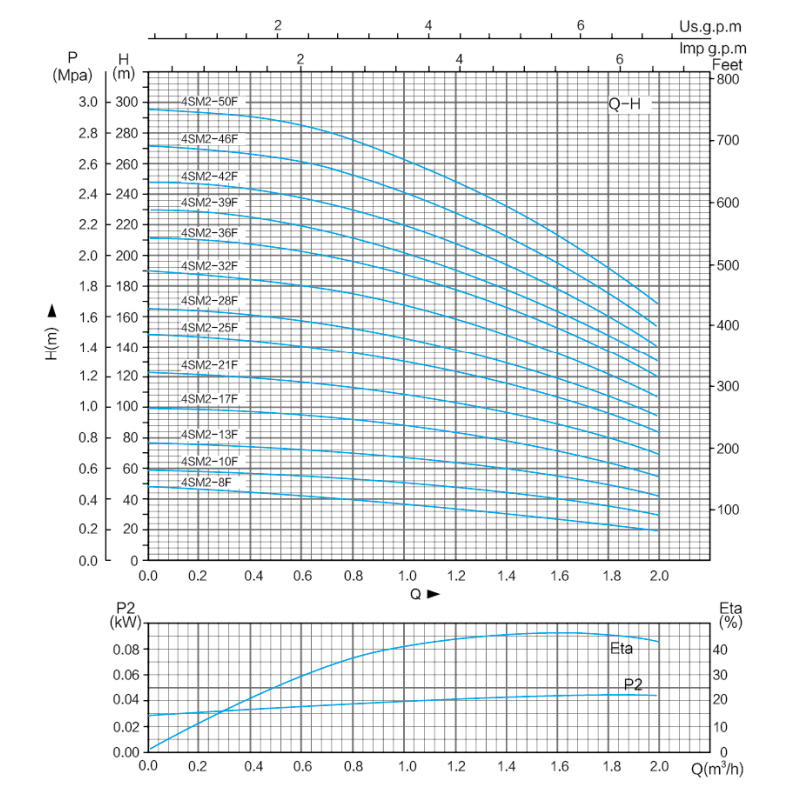 Model

Power

m3/h

0.4

0.8

1.2

1.6

2.0

2.4

2.8

3.0

4SM2-8F

0.37

 

Head
(m)

 

 

47

43

40

37
33
30
26
23

4SM2-10F

0.55

59

54

50

46
42
38
32
28

4SM2-13F

0.75

76

70

65

60
54
50
42
37

4SM2-17F

1.1

100

92

85

78
71
65
55
48

4SM2-21F

1.5

124

114

105

96
88
80
67
59

4SM2-25F

2.2

148

135

129

115
105
95
80
70

4SM2-28F

2.2

165

121

147

129
117
106
90
79

4SM2-32F

3.0

190

173

160

147
134
122
103
90

4SM2-36F

3.0

213

195

180

165
151
137
115
101

4SM2-39F

3.0

230

211

190

180
163
148
125
110

4SM2-42F

4.0

248

227

210

193
176
160
135
118

4SM2-46F

4.0

272

248

230

211

196

175

147

130

4SM2-50F

5.0

295

270

250

230

210

190

160

140
Low weight 4" Stainless Steel Submersible Pump. The pump is used for garden use and irrigation. Well diameter:4", Capcity (m3/h) stage:0.08~7, Motor filled with oil Suitable fluids Clear water For domestic use, for civil and industrial application For watering of flowers or plants Permissible up to 40°C Max.Working pressure:50 bar
This is a great pump for those who want to bring water from a well, lake or river to their home. This pump is made with a stainless steel shaft that makes it rust resistant. It also has an aluminum head and gear to keep it cool and safe from overheating. This pump is suitable for clear, free from solid or abrasive substances.
This type of pump is designed to be used in areas with a low height of the water table. It works through the suction and discharge of fluids. The motor is lubricated by oil supplied by the manufacturer, which means that it must not be opened nor re-filled.
This is a 4" low weight submersible pump of stainless steel, good quality. It is used for pumping water from wells,reservoirs and rivers, filling swimming pools and garden ponds etc. It has 1~240V/50Hz and 380V-415V/50Hz motor voltage. The motor oil is prelubricated and with steel gears.
This is a submersible pump. This model is suitable for use in domestic wells, agricultural irrigation and garden watering. It's also ideal for pulling water from deep wells or reservoirs. This pump is supplied with an oil filled motor and features stainless steel internals to ensure easy installation, durability and long life.
This pump is ideal for water supply from wells or reservoirs. It has been designed to provide clear,free from solid or abrasive substances, chemically neutral and close to the characteristics of water.