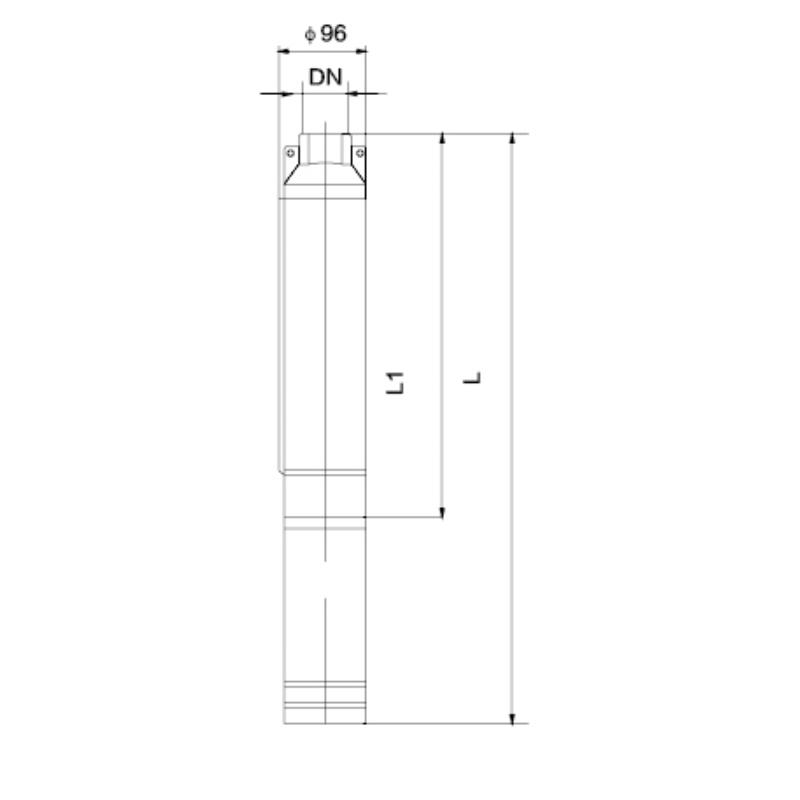 MODEL

DN

Dimensions

Single phase
220-240V 50Hz

Three phase
380-415V-
50Hz 50Hz

Length(mm)

Weight(kg)

L1

L(S)

L(T)

G(S)

G(T)

4STM10/4

4ST10/4

11/4"/11/2"/2"

398

723

708

11

11

4STM10/6

4ST10/6

11/4"/11/2"/2"

472

819

799

13

12

4STM10/10

4ST10/8 

11/4"/11/2"/2"

548

935

897

16

14

4STM10/12

4ST10/10

11/4"/11/2"/2"

624

1071

1001

19

16

4STM10/14

4ST10/12

11/4"/11/2"/2"

700

1236

1137

24

19

-

4ST10/14

11/4"/11/2"/2"

776

1312

1213

24

20

-

4ST10/17

11/4"/11/2"/2"

890

-

1367

-

23

-

4ST10/21

11/4"/11/2"/2"

1074

-

1625

-

27

-

4ST10/25

11/4"/11/2"/2"

1226

-

1847

-

31

-

4ST10/28

11/4"/11/2"/2"

1340

-

1961

-

32

-

4ST10/32

11/4"/11/2"/2"

1492

-

2203

-

37

-

4ST10/36

11/4"/11/2"/2"

1644

-

2355

-

39
Performance chart n≈2850rpm
Performance chart n≈2850rpm
MODEL

P2 

DELIVERY    n≈2850 l/min 

1~
220V/240V

3~
380V/415V

KW

 

HP

 

m3/h

0

1.8

3.6

5.4

7.2

9.0

10.8

12.6

14.4

I/min

0

30

60

90

120

150

180

210

240

4STM10/4

4ST10/4

0.55

0.75

 

 

Head
(m)

 

24

23

22

20

19

16

13

10

6

4STM10/6

4ST10/6

0.75

1.0

36

34

32

30

28

24

20

15

8

4STM10/8

4ST10/8

1.1

1.5

48

46

43

41

37

33

27

20

11

4STM10/10

4ST10/10

1.5

2.0

60

57

54

51

47

41

34

25

14

4STM10/12

4ST10/12

2.2

3.0

72

69

65

61

56

49

40

30

17

4STM10/14

4ST10/14

2.2

3.0

84

80

76

71

65

57

47

35

20

-

4ST10/17

3.0

4.0

102

97

92

86

79

69

57

42

24

-

4ST10/21

4.0

5.5

126

120

114

107

98

86

71

52

30

-

4ST10/25

5.5

7.5

150

143

135

127

117

102

84

62

35

-

4ST10/28

5.5

7.5

168

160

152

142
163

131

114

94

70

40

-

4ST10/32

7.5

10

192

133

173

149

131

108

80

45

-

4ST10/36

7.5

10

216

206

195

183

168

147

121

90

51
High performance silicon steel sheet submersible pumps are designed to operate at low temperature rises, which refers to the difference in temperature between the water being pumped and the temperature of the motor that powers the pump. A low temperature rise is desirable because it can help to extend the life of the motor and improve the efficiency of the pump. The specific temperature rise will depend on the design of the pump and the ambient temperature. However, a temperature rise of 4 inches or less is considered to be low and may be achieved through the use of high quality materials and careful design.
Low temperature rise refers to the increase in temperature of the winding insulation of an electric motor or transformer as a result of operation. In the context of a submersible pump, a low temperature rise would indicate that the pump is able to operate efficiently with minimal heat generation, which can prolong the lifespan of the pump and reduce the risk of overheating. High performance silicon steel sheets are often used in the construction of electric motors and transformers because of their high electrical resistivity and low magnetic hysteresis loss, which can help to improve the efficiency of the device.
It is known for its high performance and low temperature rise, which means that it is able to operate efficiently and effectively even at high temperatures. Submersible pumps are designed to be used in underwater applications, and the low temperature rise of silicon steel sheets helps to ensure that the pump does not become overheated and fail during operation. This is important for the safety and reliability of the pump, as well as for the overall performance of the system in which it is used.
This is typically achieved through the use of high quality, efficient motors and the use of materials that have good thermal conductivity, such as silicon steel. Such pumps are often used in applications where the temperature of the liquid being pumped must be maintained, such as in food processing or pharmaceutical manufacturing.