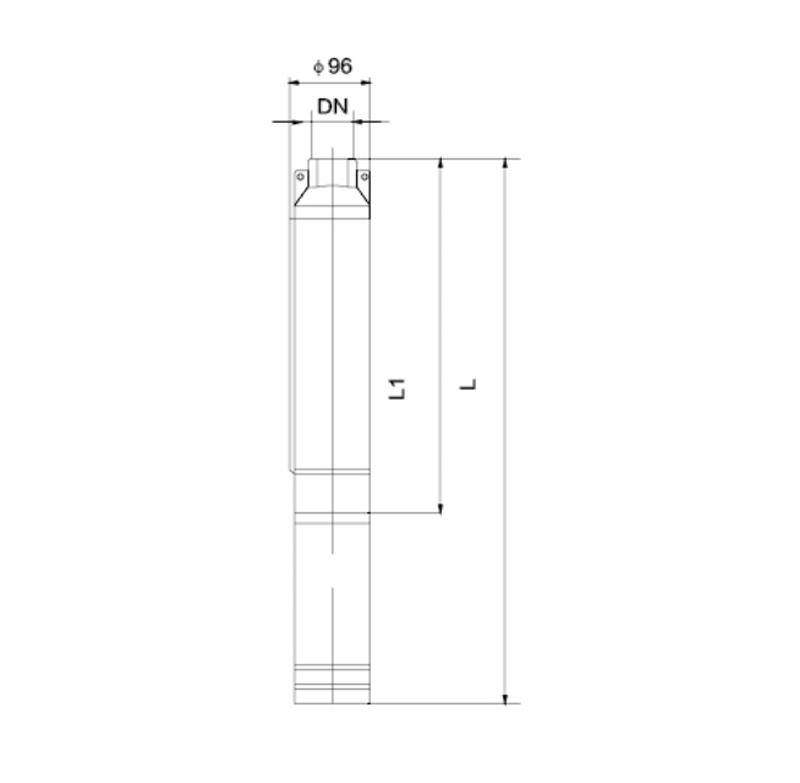 MODEL

DN

Dimensions

Single phase
220-240V-
50Hz

Three phase
380-415V-
50Hz

Length(mm)

Weight(kg)

L1

L(S)

L(T)

G(S)

G(T)

4STM12/3

4ST12/3

11/4"/11/2"/2"

396

740

740

10.6

10.6

4STM12/4

4ST12/4

11/4"/11/2"/2"

452

811

796

11.8

11.0

4STM12/5

4ST12/5

11/4"/11/2"/2"

508

887

887

13.1

13.1

4STM12/6

4ST12/6

11/4"/11/2"/2"

564

963

943

14.4

13.4

4STM12/7

4ST12/7

11/4"/11/2"/2"

620

1044

1034

15.9

15.4

4STM12/8

4ST12/8

11/4"/11/2"/2"

676

1125

1090

21.3

15.8

4STM12/10

4ST12/10

11/4"/11/2"/2"

819

1321

1268

23.9

18.3

4STM12/12

4ST12/12

11/4"/11/2"/2"

931

1473

1433

-

21.7

-

4ST12/14

11/4"/11/2"/2"

1043

-

1570

-

23.7

-

4ST12/16

11/4"/11/2"/2"

1155

-

1707

-

25.8

-

4ST12/18

11/4"/11/2"/2"

1298

-

1885

-

28.2

-

4ST12/20

11/4"/11/2"/2"

1410

-

2032

-

30.6

 

4ST12/23

11/4"/11/2"/2"

1578

-

2256

-

33.9

 

4ST12/26

11/4"/11/2"/2"

1745

-

2463

-

36.9

 

4ST12/29

11/4"/11/2"/2"

1944

-

2712

-

40.6

 

4ST12/32

11/4"/11/2"/2"

2143

-

 

-

41.8
Performance chart n≈2850rpm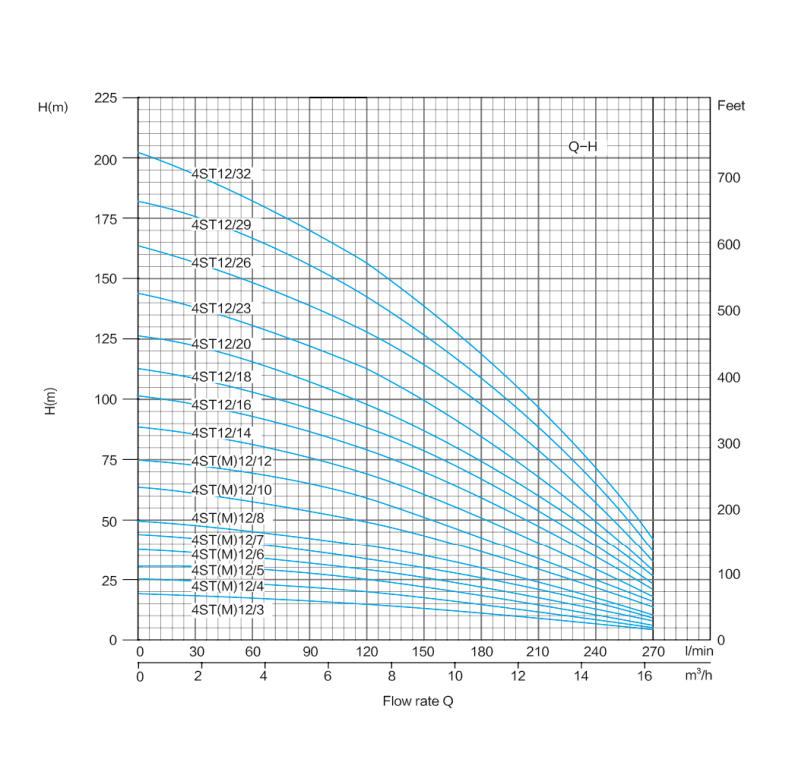 Performance chart n≈2850rpm
MODEL       

P2

DELIVERY        n≈2850 l/min



1~ 220V/240V

3~ 380V/415V

kW

HP

m3/h

0

1.8

3.6

5.4

7.2

9.0

10.8

12.6

14.4

16.2

I/min

0

30

60

90

120

150

180

210

240

270

4STM12/3

4ST12/3

0.75

1

Head
(m)

19

18

17

16

15

13

12

9

7

4

4STM12/4

4ST12/4

0.75

1

25

24

23

21

20

18

15

13

8

5

4STM12/5

4ST12/5

1.1

1.5

31

30

29

27

25

22

19

16

12

6

4STM12/6

4ST12/6

1.1

1.5

37

36

34

32

29

26

23

19

14

8

4STM12/7
4STM12/8

4ST12/7

1.5

2

44

42

40

37

34

31

27

22

16

9

4ST12/8

1.5

2

50

48

46

43

39

35

31

25

19

10

4STM12/10

4ST12/10

2.2

3

63

60

57

53

49

44

38

32

23

13

4STM12/12

4ST12/12

2.2

3

75

72

69

64

59

53

46

37

28

15

-

4ST12/14

3

4

88

84

80

75

69

62

54

44

33

18

-

4ST12/16

3

4

101

96

92

86

79

71

62

51

38

21

-

4ST12/18

4

5.5

113

108

103

96

88

79

69

57

42

23

-

4ST12/20

4

5.5

126

120

114

107

98

88

77

63

47

26

-

4ST12/23

5.5

7.5

144

138

132

123

113

101

88

73

54

29

-

4ST12/26

5.5

7.5

163

156

149

139

128

115

100

82

61

33

-

4ST12/29

7.5

10

182

174

166

155

142

128

111

92

68

37

-

4ST12/32

7.5

10

201

192

183

171

157

141

123

101

75

41
A 4" mechanical seal is a type of sealing device that is used to prevent the leakage of fluids or gases from a system. It is typically used in conjunction with a pump, such as a 4" submersible pump, to help prevent leakage from the pump housing. The seal consists of two main components: a stationary element and a rotating element. The stationary element is typically made of a durable material, such as ceramic or carbon, and is attached to the pump housing. The rotating element is made of a softer material, such as rubber or a polymer, and is attached to the shaft of the pump. When the pump is in operation, the rotating element of the seal rotates with the shaft and creates a seal between the stationary element and the shaft, preventing leakage.
The dimensional accuracy of a 4" mechanical seal refers to the precise dimensions of the seal, which are critical for ensuring that the seal functions properly. A seal with high dimensional accuracy will fit snugly into the pump housing and shaft, creating a tight seal and reducing the risk of leakage. A seal with low dimensional accuracy may not fit properly, resulting in poor sealing performance and potentially causing damage to the pump.
Mechanical seals are used to seal the rotating shaft of a pump to the stationary housing, preventing the pump from leaking water or other fluids. They are an important component in the operation of submersible pumps, as they help to ensure that the pump is able to operate efficiently and effectively.
Mechanical seals are typically made from high-quality materials such as ceramic, carbon, and stainless steel, and are designed to withstand the high pressures and temperatures that are often encountered in pump applications. High dimensional accuracy is an important feature of mechanical seals, as it helps to ensure that the seal fits properly and functions as intended.
If you have a 4" submersible pump and you need to replace the mechanical seal, it is important to select a high-quality seal that meets the dimensional requirements of your pump. It is also recommended that you follow the manufacturer's instructions for installation and maintenance to ensure optimal performance of your mechanical seal.