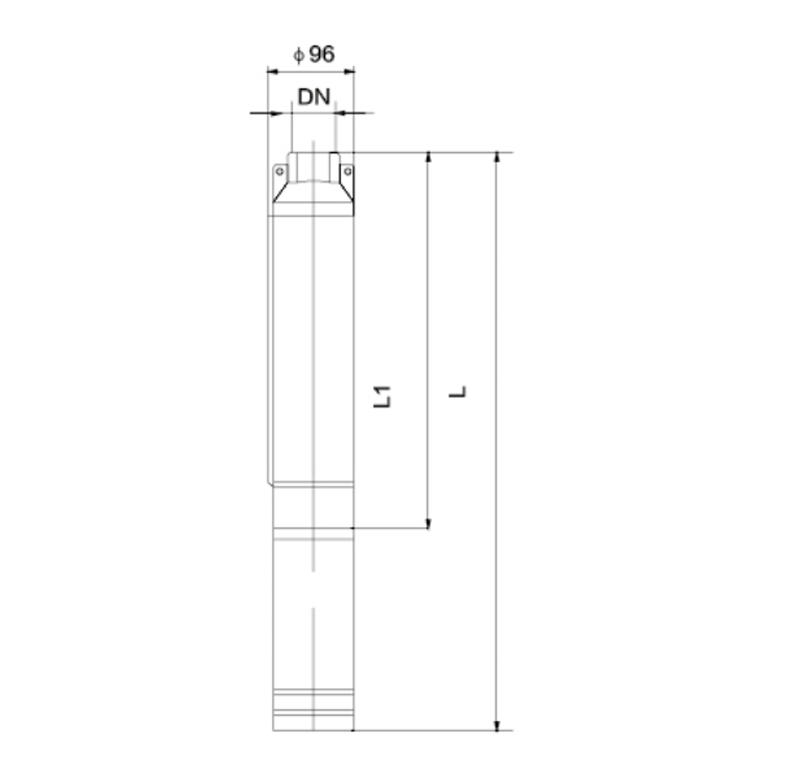 | | |
| --- | --- |
| Components          | Material |
| Pump external casing | AISI 304 ss |
| Delivery casing | AISI 304 ss |
| Suction lantern | AISI 304 ss |
| Stage casing | AISI 304 ss Plastic.PPO |
| Impeller | AISI 304 ss Plastic.PPO |
| Shaft | AISI 316 ss |
| Filter | AISI 304 ss |
| Wear ring | AISI 304 ss |
| Motor external casing | AISI 304 ss |
| Former cover | Cast-Cu ASTM280 |
| Bottom support | Cast-Cu ASTM280 |
| Mechanical seal | Special seal for deep well(carbon-SIC/TC) |
| Shaft | AISE 316 ss-C1045 |
| Bearing | NSK.NTN.CU |
| Seal lubricant oil | Oil for food machinery and pharmaceutical use. |
MODEL

DN

DIMENSIONS(mm)

L1

L(s)

L(T)

4ST(M)16-4

11/4 11/2

512

914

874

4ST(M)16-6

650

1071

1051

4ST(M)16-9

857

1383

1308

4ST16-13

1133

 

1613

4ST16-15

1258

 

1618

4ST16-20

1603

 

2203
Performance chart n≈2850rpm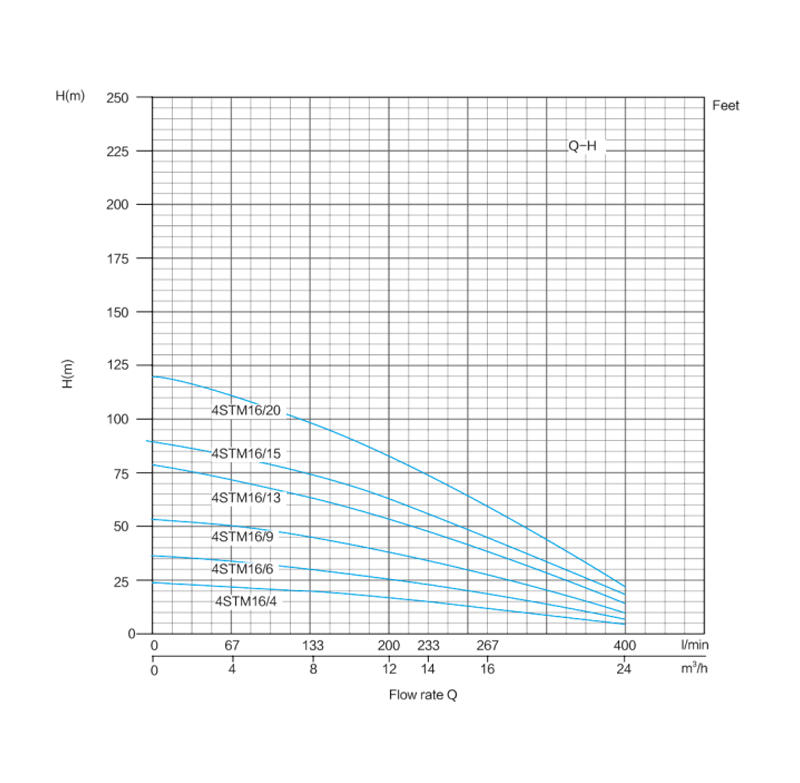 Performance chart n≈2850rpm
MODEL       

P2

 DELIVERY        n=2850 l/min

1~ 220VI240V

3~ 380VI415V

kW

HP

m3/h

0

4

8

12

14

16

24

I/min

0

67

133

200

233

267

400

4STM16/4

4ST16/4

1.1

1.5

Head
(m)

24

22

20

17

15

12

4

4STM16/6

4ST16/6

1.5

2

36

33

29

25

22

19

7

4STM16/9

4ST16/9

2.2

3

54

50

44

38

34

28

10

-

4ST16/13

3

4

78

72

64

55

49

40

14

-

4ST16/15

4

5.5

90

83

74

63

56

47

17

-

4ST16/20

5.5

7.5

120

111

98

84

75

62

22
It sounds like you are looking for information about a type of submersible pump that is environmentally friendly and does not produce pollution. Submersible pumps are designed to be placed underwater and are used for a variety of applications, such as draining flooded areas, pumping water out of wells, and providing water to irrigation systems.


There are a few key features that can make a submersible pump environmentally friendly and pollution-free:

Energy efficiency: Look for a pump that has a high energy efficiency rating, as this will help to reduce energy consumption and greenhouse gas emissions.
Chemical-free operation: Some submersible pumps use chemicals, such as oil or lubricants, in their operation. Look for a pump that does not use any chemicals, as this will help to prevent pollution of the water source.
Low noise levels: Noise pollution can be a concern with some pumps, particularly in residential areas. Look for a pump with low noise levels to minimize disturbance to people and wildlife.
Durability: A pump that is well-made and has a long lifespan will reduce the need for replacements and disposal of old pumps, which can be harmful to the environment.
It's important to note that there may be trade-offs to consider when choosing an environmentally friendly pump. For example, a pump with a high energy efficiency rating may be more expensive upfront, but it may save money on energy costs in the long run.