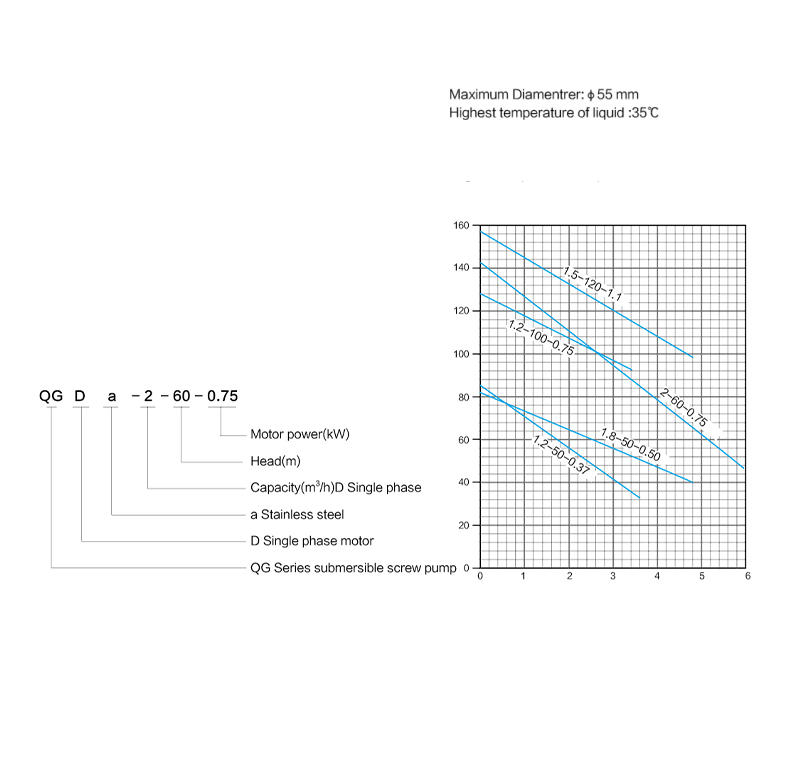 SINGLE PHASE DIMENSIONS OF MOTOR UNIT

Type

Size
Q_H_kW

Motor
power

Capacity

Voltage

Max.Dia

Pipe.dia

Dimension

kW

Hp

㎡3/h

m

V

mm

Inch

mm

QGDa

1.2-50-0.37

0.37

0.5

1.2

50

220/380

96

1

640x140x140

1.8-50-0.50

0.5

0.7

1.8

50

220/380

96

1

640x140x140

1.2-100-0.75

0.75

1

1.2

100

220/380

96

1

720x140x140

2-60-0.75

0.75

1

2.5

60

220/380

96

1

300x140x140

1.8-100-1.1

1.1

1.5

1.8

100

220/380

96

1

730x140x140

1.5-120-1.1

1.1

1.5

1.5

120

220/380

96

1

730x140x140
Our 4" single phase submersible screw pump is a reliable, energy efficient pump designed for high output flows at moderate pressure. Adopted the NEWA standare, it features low noise and is ideal for use in wastewater treatment plants, irrigation systems and water transfer operations. The submersible motor has been specially designed to withstand high temperatures, as well as frequent starting and stopping cycles. It has an operating temperature range of -10°C to +45°C for horizontal operation at full capacity.
This screw pump can transfer water and other liquids with a high viscosity. It has high material flow, low noise and low energy consumption. 
If you have water with high suspended solid content or you want to pump waste water, this product is for you. It is the least expensive pump, yet highly reliable and efficient.
This 4 inch single phase submersible screw pump is equipped with the standard and has a maximum diameter of 94.5 mm and can reach a total head up to 160 meters. It offers 0.37 to 11kW power in single phase, with insulation class B and protection grade IP68.
We are offering a 4" Single phase Submersible Screw Pump that is manufactured using high quality materials. The pump features top grade insulation for superior protection and longer life. It comes with completely enclosed construction, epoxy painting and hot dip galvanized finish making it durable. Its conical center body ensures excellent suction effect, ensuring good flow performance to the maximum level.
It's durable and reliable, made from high quality polyurethane, which is oil-proof and water proof. With low noise level and long service life, these pumps are suitable for industrial use
The screw pump is a positive displacement pump that forces liquids through a spiral-shaped barrel, increasing the pressure of the liquid by droplet separation and fluid acceleration. This pump can be used for many applications like irrigation, drainage, industrial water supply and sewage systems.