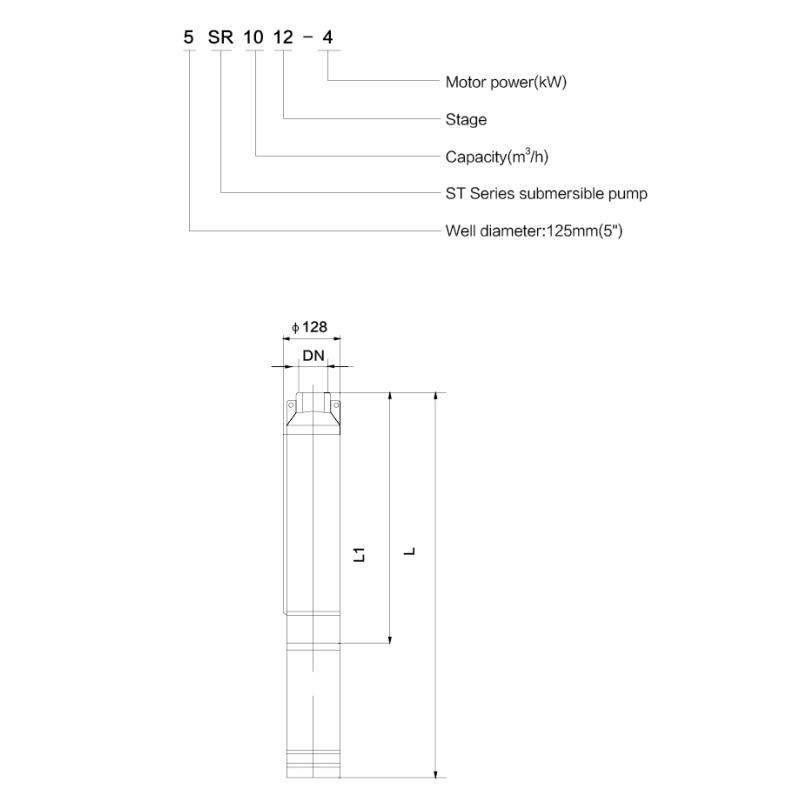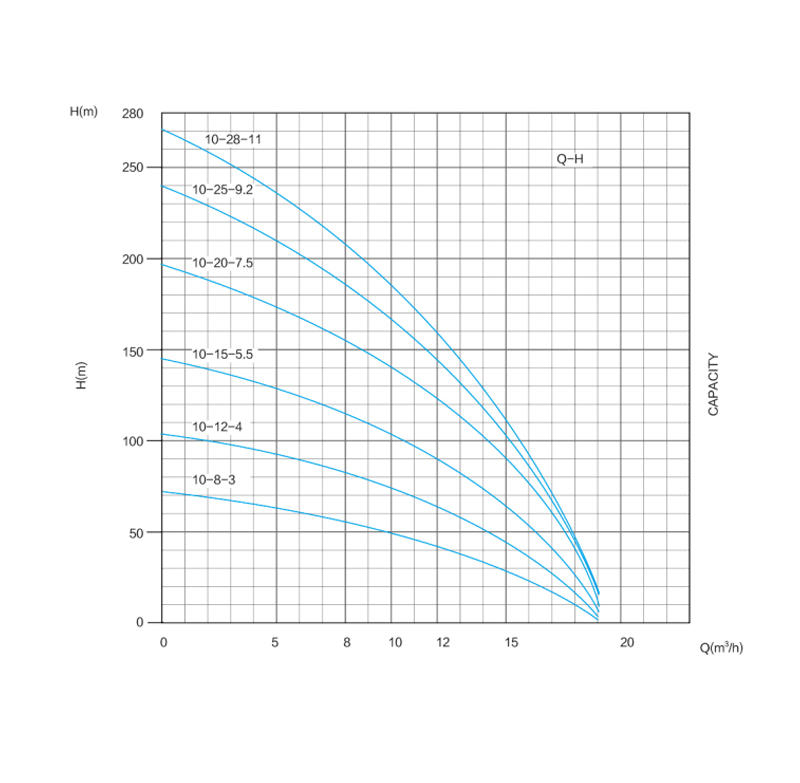 Performance chart n≈2850rpm

Model

POWER

Capacity and Head

Three Phase
380-415~
50Hz

 

kW

 

HP

 

mh

o

5

8

10

12

15

l/min

0

83

133

167

200

250

5SR10-8

3

4

Head
(m)

 

 

 

 

 

73

65

57

50

44

31

5SR10-12

4

5.5

104

93

81

70

62

45

5SR10-15

5.5

7.5

147

130

113

100

87

62

5SR10-20

7.5

10

197

176

154

135

118

85

5SR10-25

9.2

12.5

239

213

186

165

143

102

5SR10-28

11

15

270

240

210

185

160

115
A 5" submersible deep well pump is a type of electrical water pump that is designed to be placed inside a well and can operate while fully submerged in water. It is typically used to extract water from deep aquifers or to deliver water to a remote location. The pump is powered by an electrical motor and is connected to a power source via a long electrical cable. The pump is designed to operate efficiently at depths of up to several hundred feet and can typically deliver water at a rate of several gallons per minute. They are commonly used in domestic and agricultural settings to provide a reliable source of water for households and irrigation systems.
These types of pumps are typically used in domestic and agricultural settings to provide a water supply from underground sources. They are powered by electricity and are designed to be reliable and long-lasting. The size of the pump, which is expressed in inches, refers to the diameter of the pipe that is used to lower the pump into the well. The larger the diameter of the pipe, the more water the pump is capable of moving.
The pump is connected to a motor and is installed in a well casing that is drilled into the ground. The motor drives the pump, which draws water from the well and delivers it to the surface for use or storage. Deep well pumps are typically used in situations where the water table is deep below the surface or where there is no access to a municipal water supply.
These pumps typically consist of a motor, a pump casing, and a submerged impeller, and they are powered by electricity. They are designed to operate underwater, so they are usually sealed and protected against corrosion. To ensure optimal performance, it is important to choose a pump that is properly sized for the application and to follow the manufacturer's instructions for installation and maintenance.