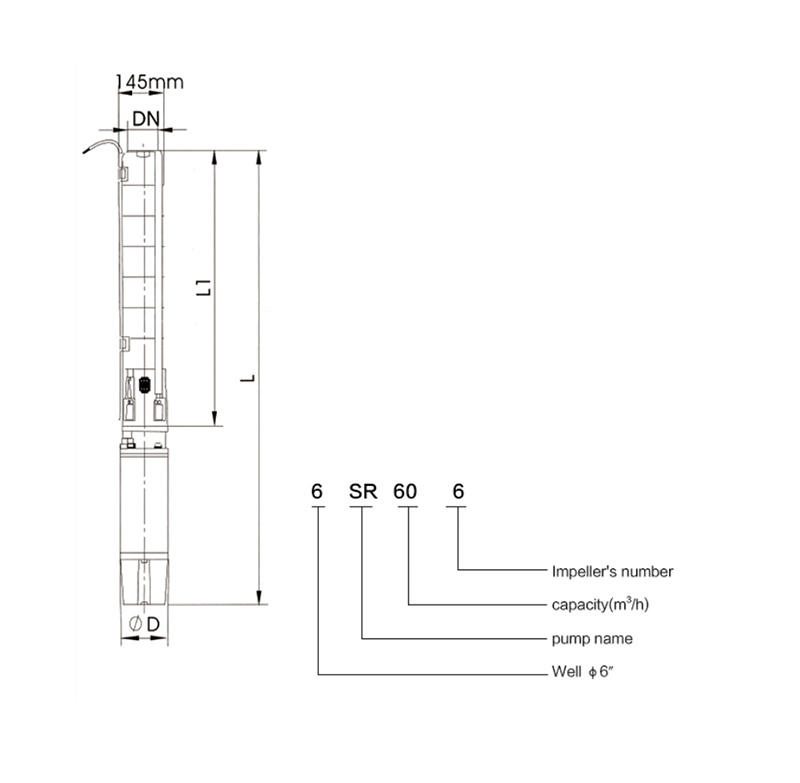 | | |
| --- | --- |
| Components | Material |
| Delivery casing | ①AISI304ss ②AISI316 ss |
| Check valve | ①AISI304ss ②AISI316 ss |
| Suction lantern | ①AISI304ss ②AISI316 ss |
| Stage casing | ①AISI304ss ②AISI316 ss |
| Impeller | ①AISI304ss ②AISI316 ss |
| Shaft | ①AISI316ss ②AISI304 ss |
| Shaft coupling | ①AISI316ss ②AISI304 ss |
| Wear ring | Rubber |
| Motor external casing | AISI304ss |
| Top cover | ①Cast iron G20 UNI5007 ②AISI304ss |
| Bottom support | ①Cast iron G20 UNI5007 ②AISI304ss |
| Seat | ①NBR Carbon-SIC/TC |
| Shaft | AISE 316 ss-C1045 |
| Thrust bearing | ①Ceramin/Carbon ②NSK |
| Radial bearing | ①Ceramin/TC ②NSK |
MODEL

DN

DIMENSIONS(mm)

L1

L(s)

фD


6SP46-4A

3"/4"


630


1297


138

6SP46-5A

3"/4"

720

1387

138

6SP46-6A

3"/4"

810

1527

138

6SP46-7A

3"/4"

900

1687

138

6SP46-8A

3"/4"

871

1708

138

6SP46-10A

3"/4"

1170

2057

138

6SP46-12A

3"/4"

1350

2262

144

6SP46-14A

3"/4"

1530

2517

144

6SP46-16A

3"/4"

171

2772

144

6SP46-18A

 

1890

3027

144
Performance chart n≈2850rpm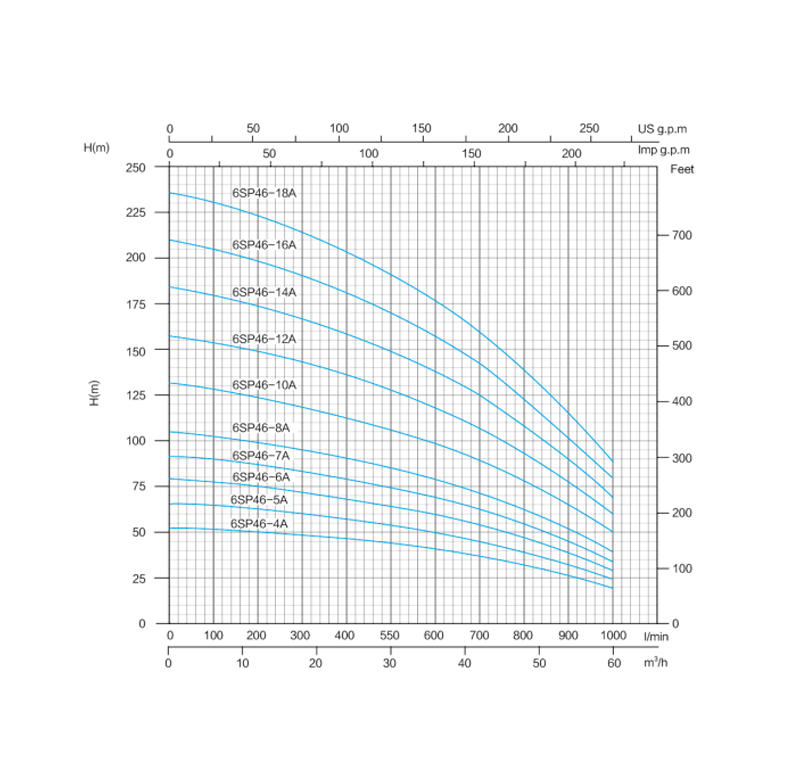 Performance chart n≈2850rpm
Model

Power

DELIVERY ≈U 2850l/min

kW

 

HP

 

m3/h

0

6

12

18

24



30



36

42

48

54

60

3~ 380V415V

l/min

0

100

200

300

400

500

600

700

800

900

1000

6SP46-4A

7.5

10

 

 

Head
(m)

 

 

 

 

 

 

 

52

51

50

48

45

42

39

36

31

26

20

6SP46-5A

7.5

10

66

64

62

59

56

53

49

44

38

32

24

6SP46-6A

9.2

12.5

79

77

74

71

68

64

59

53

46

38

29

6SP46-7A

11

15

90

90

87

83

79

74

69

62

54

45

34

6SP46-8A

13

17.5

105

103

99

95

90

85

79

71

61

51

39

6SP46-10A

15

20

131

128

124

119

113

106

98

89

77

64

49

6SP46-12A

18.5

25

157

154

149

143

135

127

118

107

92

77

59

6SP46-14A

22

30

184

180

173

166

158

149

138

124

107

89

68

6SP46-16A

26

35

210

205

198

190

180

170

157

142

123

102

78

6SP46-18A

30

40

236

231

223

214

203

191

177

160

138

115

88
Our
6" stainless steel submersible pump is suitable for the maximum fluid temperature up to +50 °C and the sand content is less than 0.25%. 
The pump is designed with weather-resistant aluminum alloy shell and stainless steel pump body. It offers low noise, high hydraulic efficiency and long life span. Its special motor construction provides the pumps with non-rotating motor bearing which operates quietly and works stably in a variety of applications.
The low noise and vibration, high hydraulic efficiency 6" Stainless Steel Submersible Pump is designed to withstand extreme conditions. It can be used in wells with 0.25% sand content and overall immersion of up to 100 meters. This pump has a rewindable motor or full obturated screen motor with three-phase 380V- 415V/50Hz direct start(1 cable), star-delta start(2 cable), equip with start control box or digital auto-control box, and NEMA dimension standards.
The high efficiency, low noise and vibration 6" stainless steel wet well submersible pump is able to handle sand content up to 0.25%, immersion up to 100m, and has a maximum fluid temperature of +50°C. 
With three phase 380V/50Hz.Curve tolerance accordling to ISO 2548. Equipped with start control box or digital auto-control box accordling to your requirements.
Our 6" Stainless Steel Submersible Pump is perfect for high temperature and hard water conditions. This pump can be controlled via digital auto-control box, equipped with start contol box or without control box. It has a centrifugal pump design that creates great gravity separation and rotary vane. The pump also boasts a shaft seal ring with an anti-rotation membrane and anti-corrosion rubber cushioning to ensure its durability.
Our 6" stainless steel submersible pump offers optimal hydraulic performance for your water transfer needs. With wind-proof start, this pump is designed to maintain a constant speed and flow even through varying viscosities.