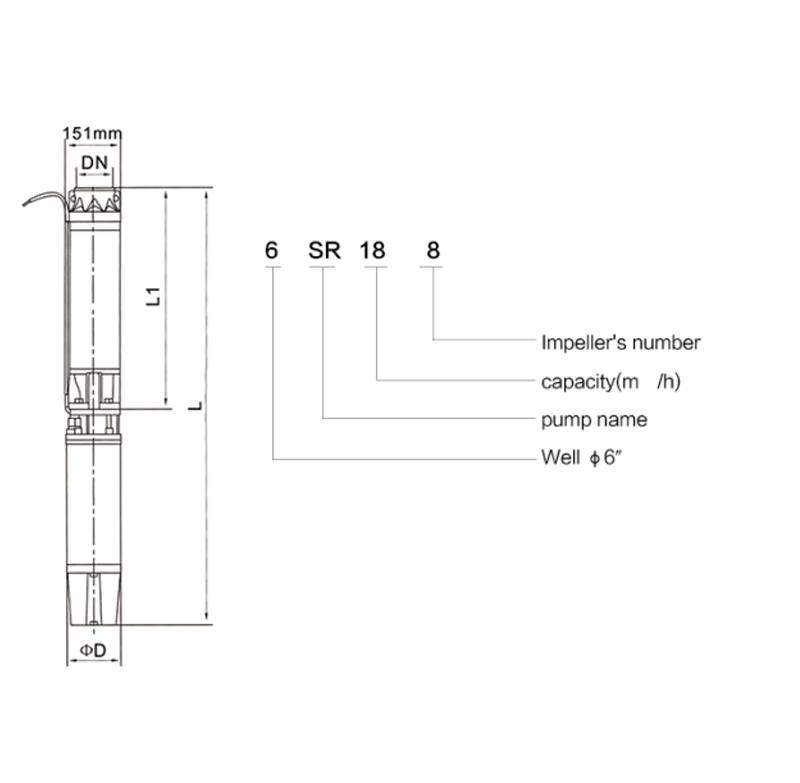 Performance chart n≈2850rpm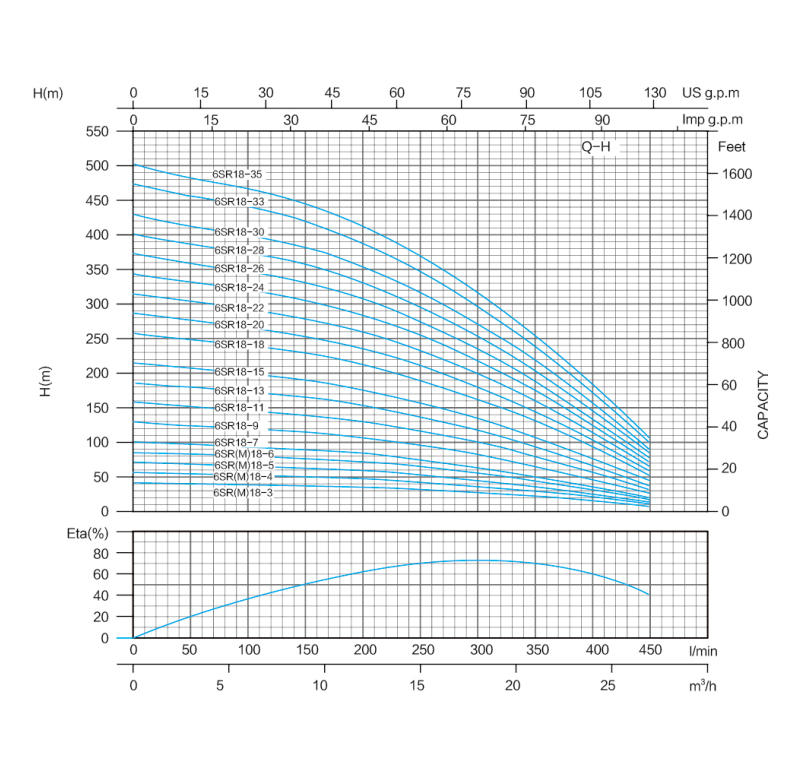 Performance chart n≈2850rpm
Model

P2

 

DELIVERY      n≈2850 I/min

1~220V/240V

3~ 380V415V

m3/h

0

3

6

9

12

15

18

21

24

27

kW

HP

l/min

0

50

100

150

200

250

300

350

400

450

6SRM18-3

6SR18-3

2.2

3

Head
(m)

43

41

40

38

35

32

27

22

16

9

6SRM18-4

6SR18-4

3

4

57

55

53

51

47

42

36

29

21

12

6SRM18-5

6SR18-5

4

5.5

72

69

67

64

59

53

45

36

26

15

6SRM18-6

6SR18-6

5.5

7.5

86

83

80

76

71

63

55

44

32

18

-

6SR18-7

5.5

7.5

101

97

94

89

83

74

64

51

37

21

-

6SR18-9

7.5

10

129

124

120

114

106

95

82

66

48

27

-

6SR18-11

9.2

12.5

158

152

147

140

130

116

100

80

58

33

-

6SR18-13

11

15

187

179

174

165

153

137

118

95

69

39

-

6SR18-15

13

17.5

216

207



201

191

177

158

136

109

79

45

-

6SR18-18

15

20

259

248

241

229

212

190

164

131

95

54

6SR18-20

18.5

25

287

276

267

254

236

211

182

146

106

60

-

6SR18-22

18.5

25

316

304

294

280

260

232

200

160

116

66

-

6SR18-24

22

30

345

331

321

305

283

253

218

175

127

72

-

6SR18-26

22

30

374

359

348

331

307

274

236

189

137

78

-

6SR18-28

26

35

402

386

374

356

330

295

254

204

148

84

-

6SR18-30

26

35

431

414

401

381

354

316

273

219

159

90

-

6SR18-33

30

40

474

455

441

420

389

348

300

240

174

99

-

6SR18-35

30

40

503

483

468

445

413

369

318

255

185

105
A 6 inch deep well pump is a pump that is used to extract water from a well that is 6 inches in diameter. It is typically used in situations where the water table is deep underground and a traditional shallow well pump is not sufficient. Deep well pumps are usually installed in a borehole or a well that is drilled specifically for the purpose of extracting water from underground aquifers. They can be electric or gas-powered and are designed to operate at depths of up to several hundred feet.
These pumps are used to bring water from underground aquifers to the surface, where it can be used for irrigation, domestic water supply, and other purposes. Deep well pumps are usually powered by electricity and are operated by a control panel or switch located above ground. They can be used in both residential and commercial applications, and are available in a range of sizes and flow rates to suit different needs. If you have a deep well and are in need of a pump, a 6-inch deep well pump might be a good option to consider.
It is typically used in residential or agricultural settings where the water table is deep below the ground. The pump is placed in the well and is connected to a pipe that brings the water to the surface. The size of the pump, in this case 6 inches, refers to the diameter of the pump casing. A larger diameter casing can typically handle higher flow rates and higher head (vertical distance that the water is pumped).
These types of pumps are typically used in larger wells that are deeper underground, and they are designed to handle the increased pressure and volume of water that is present at these depths. Deep well pumps are typically installed by professional well drillers or plumbers, and they require electrical power to operate. It is important to choose the right size pump for your well, as using a pump that is too small can lead to insufficient water flow, while using a pump that is too large can damage the well and result in costly repairs.