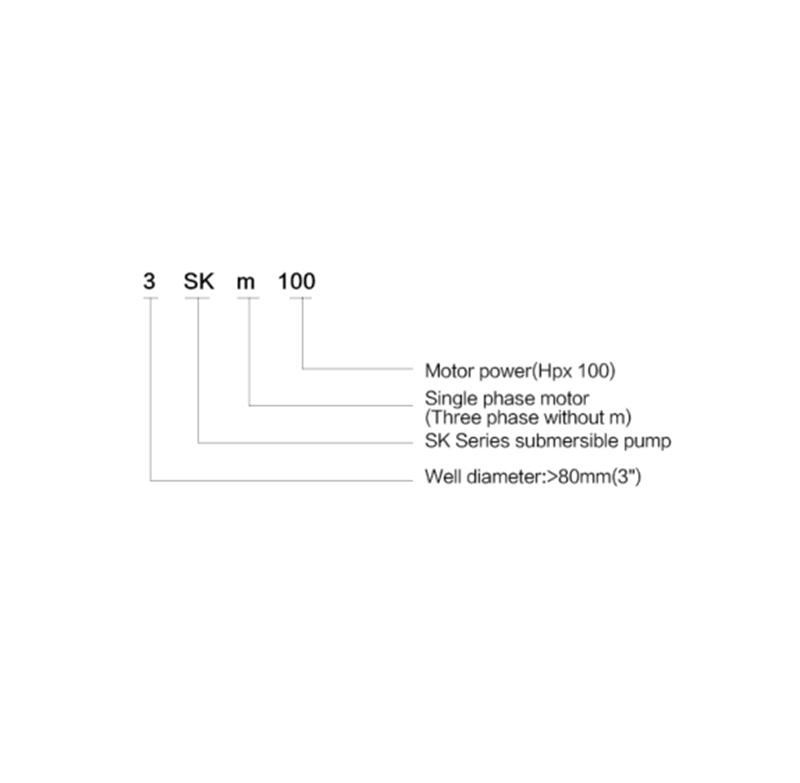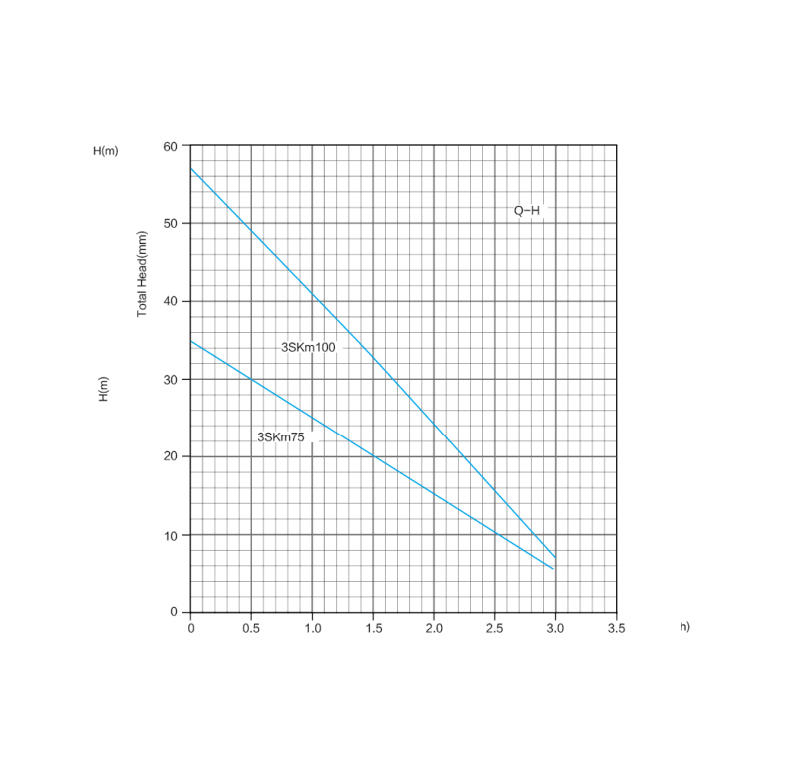 Type

Motor
Power

Capacity and head
Length
(mm)

m3/h

0

0.5

1

1.5

2

2.5

3.0

Single phase
220-240V-
50Hz
Three phase
380-415V-
50Hz
I/min
0
8.3
16.6
25
33.3
40
50

3SKm75

3SK75

kW
HP
Imp.g.m
0
1.8
3.6
5.4
7.2
9
11


0.55


0.75


Head


35


29


25


20


15


9.5


6

519

3SKm100

3SK100

0.75

1

(m)

57

48

40

32

25

17

7

589
This 3-inch brass impeller submersible pump has a contraction ratio of 25:1, Qmax of 3 (m3/h), and maximum diameter of Φ75mm. This product is insulation class B, protection grade IP 68, and has a highest temperature of liquid of 35°C.Qmax up to 3(m3/h),µt efficiency can reach 6.25~7.50,high efficiency,long life and low noise.
The 3 Inch Brass Impeller Submersible Pump is easy to install and maintain, and it can plunge more than 600 meters deep. For example, it can be used for water supply at tourist resorts, apartment blocks and city infrastructure renewal projects. It is also suitable for solid waste treatment facilities.
This pump is suitable for shallow, small irrigation and drainage systems. It can collect water, soil and gravel. It also is a decorative fountain pump and can be used to drive fans and other equipment that requires water circulation.
This 3 Inch Brass Impeller Submersible Pump is made of high quality material, durable and long service life. It can transfer liquid with any impurity water into pure water. It is easy to install and convenient to operate.
This pump is designed for small aquariums and ponds. It is 3 inches in diameter and can move 3 m3/h at 6 feet of lift. The pump is insulated and uses brass as the material for its impeller. The pump is rated IP 68, which means that it can be submerged to a depth of 5 meters and still work. In addition, this pump is great for a wide range of applications including water circulation, heating, chemical mixing, aeration and many others where a strong but low flow rate is needed.
The impeller pump is a kind of hydropower pump, which is driven by the pressure change of liquid in medium. The impeller pump is used for transferring water or other similar liquids with weight less than or equal to 0.3-2t and viscosity less than 5  Pa· S, at normal temperature range of -15°C to 65°C.
This submersible pump can be applied to take water from the water source and discharge it into the water tank. It is mainly used for rainwater pumping, septic tank cleaning, domestic water supply and other situations where underground water pressure is low.
The 3 Inch Brass Impeller Submersible Pump is designed to meet the needs of high efficiency, quiet and low vibration. The pump has a maximum flow of 3m3/h, which is suitable for sewage pumping, water supply for industrial and agricultural use. It also comes with an insulation class of B and protection grade of IP 68.
It's built with a durable brass casing and impeller to resist corrosion, corrosion, and a five meter cord to power the pump up to 18.4 feet deep in water. The pump comes with an operating temperature of 0 to 60 degrees C and can withstand lights rain conditions.
Please be aware of the above specifications when using this pump. The 3 Inch Brass Impeller Submersible Pump is suitable for use in small flow applications such as agricultural and earth moving tanks. A convenient wall-mounting bracket comes included with each pump for easy installation
The 3 Inch Brass Impeller Submersible Pump is effective and reliable. It is designed to meet different requirements of industrial and municipal projects, such as water supply for industries, hydraulic power station for agriculture and drainage. The impeller pump can be used in a variety of liquid transfer operations such as sewage pumping, water supply and irrigation, waste water treatment system etc..