| | |
| --- | --- |
| Components        | Material |
| Delivery casing | Cast-iron ASTM.30 |
| Check value | ①AISI 304 SS ②AISI 316 SS |
| Suction lanten | Cast-iron ASTM NO.30 |
| Stage casing | Cast-iron ASTM NO.30 |
| Impeller | ①AISI 304 SS ②Cast-Cu ASTM C85500 |
| Shaft | ①AISI 304 SS ②SISI 304 SS |
| Shaft coupling | ①AISI 304 SS ②SISI 304 SS |
| Wear ring | Rubber |
| Motor external casing | AISI 304 SS |
| Top chock | ①Cast-iron ASTM NO.30 ②AISI 304 SS |
| Bottom support | ①Cast-iron ASTM NO.30 ②SISI 304 SS |
| Seal | ①NBR ②Carbon-ASTM3140 |
| Shaft | AISI 303 SS-ASTM 3140 |
| Thrust bearing | ①Graphite-Ceramic ②NSK |
| Radial bearing | ①Graphite-Ceramic ②NSK |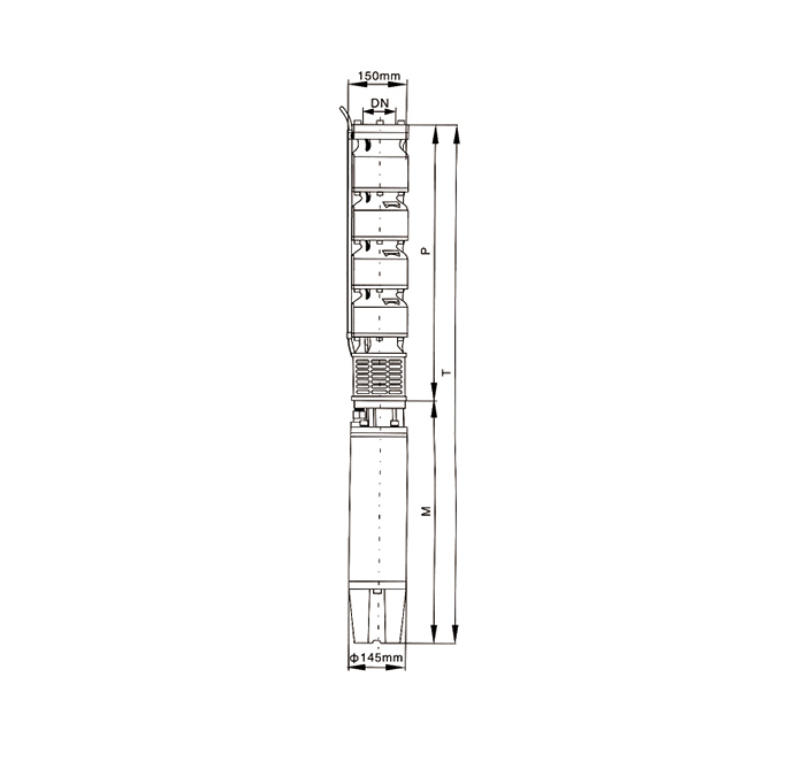 PERFORMANCE DATA 50Hz
Model

DN

Dimensions(mm)

Weight(kg)


1~ 220V/240V

3~ 380V/415V

P

M(S)

(1)W

T(S)

T(T)

P

M(S)

M(T)

T(S)

T(T)

S150MB-2A

S150B-2A

3"14"

575

586

556

1161

1131

25.1

38.8

35.9

63.9

61

S150MB-2

S150B-2

3"/4"

575

616

586

1191

1161

25.1

41.7

38.8

66.8

63.9

S150MB-3

S150B-3

3"/4"

690

999

616

1356

1306

30.9

46.5

41.7

77.4

72.6

-

S150B-4

3"/4"

805

-

666

-

1471

36.7

-

36.5

 

83.2

-

S150B-5

3"/4"

920

-

716

-

1636

42.6

-

51.3

 

93.9

-

S150B-6

3"/4"

1035

-

786

-

1821

48.4

-

56.1

 

104.5

-

S150B-7

3/4

1150

-

836

-

1986

54.2

-

60.9

 

115.1

-

S150B-8

3"/4"

1265

-

886

-

2215

60.0

-

65.7

 

125.7

-

S150B-9

3"/4"

1380

-

936

-

2316

65.9

-

70.5

 

136.4

-

S150B-10

3"/4"

1495

-

936

-

2431

71.7

-

70.5

 

142.2

-

S150B-11

3"/4"

1610

-

1011

-

2621

77.5

-

77.7

 

155.2

-

S150B-12

3"/4"

1725

-

1011

-

2736

83.4

-

77.7

 

161.1

-

S150B-13

3"/4"

1840

-

1086

-

2826

89.2

-

84.9

 

174.1

-

S150B-14

3"/4"

1955

-

1086

-

3041

95.0

-

84.9

 

179.9

-

S150B-15

3"14"

2070

-

1161

-

3231

100.9

-

92.1

 

193.0

-

S150B-16

 

2185

-

1161

-

3346

106.7

-

92.1

 

198.8
Performance chart n≈2850rpm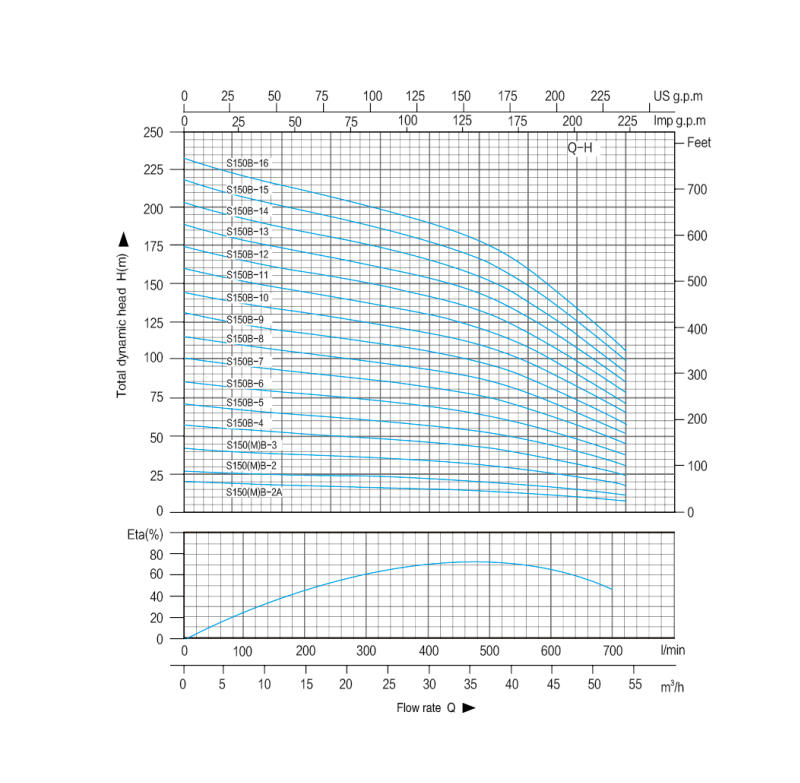 Performance chart n≈2850rpm
Model


P2

DELIVERY n≈ 2850 /min

1~ 220V/240V

3~ 380V/415V

kW

HP

㎡/h

0

6

12

18

24

30

36

42

48

54

Vmin

0

100

200

300

400

500

600

700

800



900



S150MB-2A

S150B-2A

3

4

Head
(m)

22

21

21

20

19

18

17

14

12

10

S150MB-2

S150B-2

4

5.5

29

28

27

26

25

24

23

20

17

14

S150MB-3

S150B-3

5.5

7.5

44

42

40

39

37

36

34

30

26



20



-

S150B-4

7.5

10

59

56

54

52

50

48

45

40

34

27

-

S150B-5

9.2

12.5

73

70

68

65

63

60

56

50

43

34

-

S150B-6

11

15

88

84

81

78

75

72

68

60

51

40

-

S150B-7
S150B-8

13

17.5

103

98

95

91

88

84

79

70

60

47

-

15

20

118

112

108

104

100

96

90

81

88

54

-

S150B-9

18.5

25

132

126

122

117

113

108

101

91

77

61

-

S150B-10

18.5

25

147

140

135

130

125

120

113

101

85

68

-

S150B-11

22

30

162

154

149

143

138

132

124

111

94

74

-

S150B-12

22

30

176

168

162

156

150

144

135

121

102

81

-

S150B-13

26

35

191

182

176

169

163

156

146

131

111

88

-

S150B-14

26

35

206

196

189

182

175

168

158

141

119

95

-

S150B-15

30

40

220

210

203

195

188

180

169

151

128

101
This unique and wonderful design product is a high performance hydraulic pump that is specially designed for domestic water supply from wells or reservoir, irrigation and industrial application. The impeller is made of high-quality Iron for corrosion resistance, long lifespan and low noise. The liner shaft has a good sealing performance and is easy to install.
This submersible pump is a high-pressure, low-noise water pump used for irrigation and septic systems. The impeller is made of forged cast iron and the shaft is galvanized steel. It is assembled with a mechanical seal that makes it completely oil free. This pump can be installed in well depths up to 100 meters deep, with a minimum diameter of 6 inches.
This is a high capacity/high head pump with submerged type for agricultural and irrigation. This can be used to send water from wells or reservoir to garden in order to supply water, so that the garden and crops can be irrigated effectively. The input flow rate of this kind of pump is higher than the output flow rate.
The ideal working conditions for this pump are 50Hz 220V voltage. This product is available for water supply from wells or reservoir. It is designed for domestic use and can be used by civil and industrial applications too. It is also ideal for garden use and irrigation. 
The 50HZ 220V Voltage Indian Design Iron impeller Submersible is a durable and efficient pump that's great for many purposes such as irrigation, water supply from wells and reservoir, domestic use, and industrial applications. Designed for up to +50°C temperatures, with a minimum well diameter of 6 inches, this powerful pump can handle depths up to 100 meters.
The impellers are made of high density plastic. They are specially designed to be inextingible and corrosion-resistant. Both the motor and the propeller are protected by the double seals of a mechanical seal and an electrical one, which guarantee a long life span, a perfect operation and a low warranty period.
The 50HZ 220V Voltage Indian Design Iron impeller Submersible Pump is a well pump. This pump has been designed to use in wells and reservoirs, supplying water for domestic use, irrigation and many other project applications. This pump features NEMA dimension standards, as well as special mechanical seal and curve tolerance according to ISO 9906. The three-phase model is also available at 380V/415V/50Hz.
The impeller is manufactured from high-quality steel and durable glass fiber reinforced polyester insulating material. The carbide isher and zinc die-cast base ensure durability of the motor, while providing good electrical insulation.